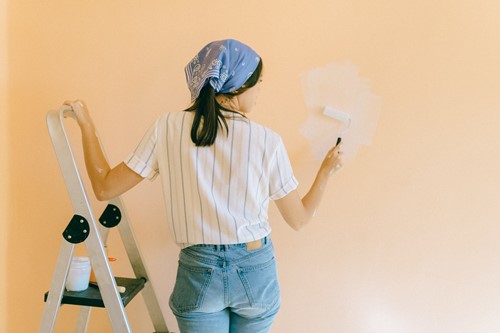 If you're searching for ways to upgrade existing furniture and decor, DIYs with paint might be perfect for your next project. A little paint can go a long way, whether it's on walls, cabinets, furniture or decorative accessories.
DIY paint projects for your walls
Painting your walls might seem like an enormous undertaking, but the reward is well worth the time and effort. A new coat of paint can transform an entire room without making any other major changes.
However, for a smaller scale project, consider painting an accent wall in your room of choice.
You can create bold geometric shapes and patterns using painter's tape to mimic the appearance of wallpaper. Try a colorful honeycomb motif in your bathroom, or a more subtle herringbone in the bedroom using neutral tones.
Another great idea for DIY projects with paint is to paint the inside walls of your closets. A quick coat of white or another light shade will instantly make your closet seem bigger and brighter.
DIY ideas with spray paint
Spray paint offers a wealth of possibilities for DIY projects, especially when it comes to upgrading existing pieces. The key is to choose the right type of paint primer for the material you plan to refurbish.
Do you have old metal filing cabinets taking up space in your home office? Try spray-painting them in a bold hue to turn them into statement pieces.
For decorative pieces, don't forget you can spray paint glass or ceramics. Turn unused mason jars into decorative containers with your choice of spray paint in a high gloss finish. Try transforming an old glass vase or pitcher into charming farmhouse style accent pieces.
Are you ready to grab a paint brush, roller or spray can? With painting projects, you can upgrade your existing pieces and create design statements with bold like-new decor. Keep these ideas in mind the next time you need ideas for DIY paint projects.