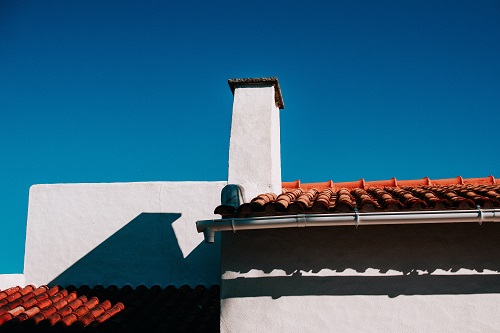 Both screen and gutter cleaning are important home maintenance tasks every homeowner should have on their list. Addressing clogged gutters can improve drainage and prevent damage to your foundation. Cleaning window or porch screens can improve airflow and help them last longer.
Here are some guidelines for handling both of these exterior cleaning tasks:
How to clean gutters on a ladder
The safest way to clean gutters on a ladder is by using an extension ladder with stabilizer arms. A sturdy extension ladder latches onto the structure to prevent tipping, unlike stepladders, which can increase your risk of falling. It's also a good idea to have an assistant with you to hold the ladder or provide extra help from the ground when needed.
How to clean gutters from the ground
The cleaning of gutters from ladders can take a little longer, but it's safer. Cleaning gutters from the ground requires a garden hose or power washer to clear out the debris. If your home is taller than one story, however, consider hiring a professional for help.
Use spray-on cleaner for screens
There are multiple ready-made cleaning products available for cleaning screens, whether they be windows or porch screens. Simply spray the product directly onto the screen and scrub with a brush to spread the cleaner into the tiny holes. Some cleaners require rinsing off afterward, so read the included instructions carefully.
Clean porch screens with soapy water & a brush
It is easiest to scrub screen doors, windows and walls using soap and water. It can take longer than using a cleaning product, but is DIY-friendly and uses supplies you might already have around the house. Fill a large bucket or container with warm water and add mild dish soap. Using a scrub brush or rough sponge, scrub away the dirt and grime to clean screens.
How to clean removable screens
If you have removable screens, it might be tempting to take them down to clean them. However, it's quicker to leave them in place for cleaning. This allows them to dry much faster, as they can get better airflow.
The importance of clean gutters & screens
Gutters require relatively minimal maintenance to function properly, but if they are filled with leaves, they can cause obstructions in their downspouts. The snow on the roof will melt and then freeze in the gutter, causing heavy ice blockages which will rip up the gutters from underneath a house.
As for screens, the cleaner the screen, the better the airflow. Not only will you have improved air quality, you'll notice better air circulation in your screened in porch or through your windows. You'll also improve the longevity of your screens by keeping them clean and well-maintained, preventing expensive repairs or replacements down the road.
Some home maintenance tasks are trickier than others, but all combine to ensure your investment will stand the test of time. For gutters and screens, keep these tips in mind to make your seasonal cleaning simpler.