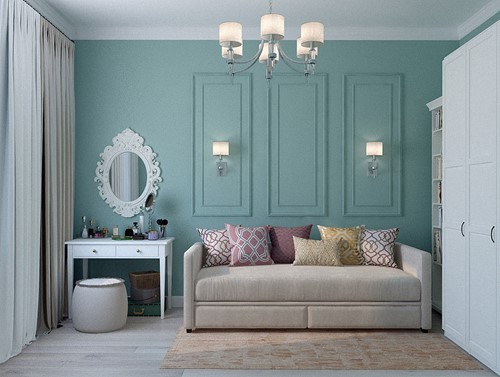 Small living spaces can present some unique challenges with furnishing and decorating. Whether you're dealing with a cramped living room or a tiny bedroom, there are some practical steps you can take to make your space feel larger and more functional.
1. Hang Window Treatments High
The right window treatments can really open up even the smallest of rooms. However, it's all a matter of how you hang them. When installing curtains in a smaller room, hang curtain rods at least a few inches above the top of your windows to create the illusion of taller ceilings. From there, choosing a curtain length that will drape to the floor can further elongate the appearance of your walls.
2. Decorate With Reflective Materials
When choosing decor for your small room, opt for reflective materials. This can include not only mirrors, but glass and metallic decor as well. When you decorate with these materials, they reflect light, which can make the space appear larger.
Mirrors are especially effective because when strategically placed and paired with a light source. They can simultaneously create the illusion of more space while brightening up an otherwise dark room.
3. Scale Down Your Furniture
Making a small space as functional as possible will help you best use even the tiniest room, and one of the best ways to improve function in a small space is to scale down your furniture. Rather than opting for that huge sectional in your tiny living room, you might be better off choosing a small loveseat with a couple of eye-catching accent chairs. Buying furniture that is scaled down to suit your space will help you get the best use out of it. Meanwhile, you can avoid overcrowding a petite space with oversized furniture.
You don't need to be a professional interior designer to employ a little strategy when decorating your small space. With these simple yet effective tips, you'll be well on your way to furnishing and decorating any small living space in your home with greater confidence. From there, you can get the most out of every precious square foot.